In this colorfull edition of "Who to Watch" we finish up the AL Central and start to head out east (hoping to avoid the snow!).  While the White Sox look like a club buillt with solid fantasy contributors, the Blue Jays have some major question marks and players coming off of what could be a career year.  Who do you want to tagret and who do you want to forget?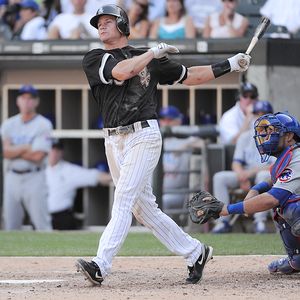 The White Sox player I want to target in 2010 is Gordon Beckham.  Beckham will take over as the White Sox everyday second baseman this season and his fantasy value should thrive because of it.  If one were to prorate Beckham's counting numbers from last season over 550 at-bats, the results would be about 20 home runs, 85 runs, 92 RBI and 10 stolen bases.  Given Beckham's very solid BB/K rate as a rookie (meaning it should continue to get better) he should have no problem raising his AVG up beyond the .280 mark.  Despite the hype, Beckham still seems to have a relatively low risk average draft position.  Take advantage of that in 2010, because it will likely be the last season for a long time that he comes this cheap on draft day.
There really isn't any obvious player that I would strictly avoid on this White Sox team.  Players like Mark Teahen and Mark Kotsay won't really do much outside of AL-only leagues, but the rest of this group (Freddy Garcia aside) should have value given the right price on draft day.  However, if I had to pick one player that I probably won't draft, it's Marl Buehrle.  Buehrle just doesn't contribute much in the strikeout department and year-after-year he allows more hits than innings pitched making his WHIP very risky.  At that point in the draft I'd much rather take a flier on a pitcher with some strikeout upside.
The Blue Jays player I want on draft day 2010 is Marc Rzepczynski.  As mentioned above, I like to take late round fliers on pitchers with big strikeout upside.  Rzepczynski is just that type of pitcher.  Last season he struck out 60 in 61.1 innings.  According to minorleaguesplits.com, M-Zep (yeah, that's easier than writing it out again) generated ground balls at a rate of over 60 percent in his minor league career.  Last season about 55 percent of his balls put in play were ground balls.  That factor will only help his already high strikeout rate.  M-Zep does, however, have a slight issue with command, but a small correction in that area could lead to a big season and huge value as a late round pick on drat day.
I want to avoid Kevin Gregg on draft day 2010.  Gregg has had a surprising career in the National League after the Angels cut him loose in 2006.  Last season, however, that success was nowhere to be found as the home run bug came biting.  In his 68.2 innings with the Cubs Gregg allowed 13 home runs, which resulted in the highest home run rate of his career.  Moving to the AL East won't help that cause any.  The biggest reason to avoid Gregg on draft day isn't just that he can't be trusted, but that Toronto has better late game options already in their pen.  Both Jason Frasor and Scott downs displayed much better command last season and have the ability to match Gregg in the strikeout department as well.  Also, both of Frasor and Downs have been able to consistently keep the ball in the ballpark for the most part.  Save yourself the headache and pass on Gregg in 2010.
Brett Greenfield of Fantasy Phenoms gives his take…
The player you want on your team for the White Sox is Gordon Beckham.  His 14/17 line in 378 AB could easily turn into a 20/20 season.  One of the best rookies last year, Beckham was overlooked because of people like Tommy Hanson, Clayton Kershaw, Andrew McCutchen and Carlos Gonzalez.  Eligible at 2B and 3B makes him even more interesting because those are two of the weakest positions this year.
The White Sox player to avoid is John Danks.  Danks put together a second consecutive season with pretty good numbers. He didn't up his K/9 ratio, so he'll remain nothing better than a #4 SP. His 3.77 ERA should have been worse though, considering a 3.90 ERC, 4.63 DIPS and .258 BABIP.  Lastly, Danks allowed 17 second-half homers, most in the majors.
The Blue Jay you want on your team in 2010 is Edwin Encarnacion.  Edwin is one year removed from a 26-homer season in Cincinatti.  He was injured and subsequently dealt to Toronto, where he finished with 13 homers.  That makes four consecutive seasons with 13+ HR and he easily could have matched the 26 from 2008 had he received his normal dose of AB.  Entering his age 27 season, Encarnacion could pop 30 HR this year and goes after round 20 in drafts.
The Toronto player not to draft in 2010 is Aaron Hill.  Hill had a career year and hit 36 homers.  He'll be missing the on-base machine in Marco Scutaro.  Aaron will have to try and rely on Lyle Overbay or Jose Bautista to be on base to drive in as much as he did Scutaro last year.  It would be surprising to see Hill repeat last year's numbers and to make him your third round pick based on one season is a bit risky.